Allen Horstmanshof told me by mail the story of his Horstmanshof family:
"I was born in 1944 in Pretoria, a brother Graham who died of SIDS at the age of a few months was born in 1948 and I have a younger sister, Carol Merkl, living in the UK.
My wife Louise and son Dale Justin are the only members of the South African  Horstmanshof branch now living in Australia.
My Grandfather Hendrik (Henk), see below,  was born in Alkmaar where he married Aagje Hoorn.  After emigrating from Alkmaar to South Africa in 1920 Henk became a  property developer in Pretoria and later a quite good landscape artist travelling around South Africa.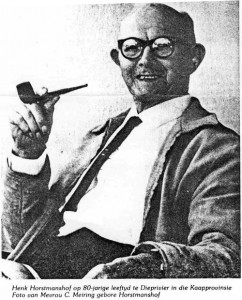 Two children, my aunt Cornelia (Meiring) and my father Jan Dirk were born in Alkmaar before the family emigrated.  My uncle Dirk Hendrik (known throughout his life as "Bob") was born in Pretoria.
Henk and Aagje divorced in the 1930s and we more or less lost touch with my  grandfather as he travelled the country in a self-built caravan to paint landscapes and from time to time to build houses.
Henk Horstmanshof (My Grandfather) thought of himself as an architect but as far as I know  never qualified as one. He was Born in Alkmaar, Netherlands on 15 September 1886, and died on 8 April 1974 in Dieprivier, Cape, South Africa.
That said,  he left a  legacy of important "Arts-and-Crafts" style buildings in Pretoria, all of which are today heritage listed buildings.  One which was the family home that Henk built in Park Street in the inner city suburb of Hatfield in Pretoria. That house is today used as a boutique hotel and their website mentions Henk and his legacy. See also the Artifacts.com page for more information.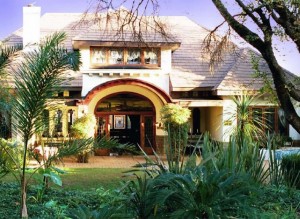 Louise and I stayed there in 2010. The owners were delighted when we had a small South African Horstmanshof family reunion in their boutique hotel.  This reunion which included my three female cousins, Katinka, Eefke (Evelyn) (daughters of Cornelia)  and Marguerite (daughter of my uncle "Bob" – baptised as Dirk) , none of whom bear the Horstmanshof name.   Our second cousins Dirk, Pieter and Henk Horstmanshof, the grandsons of my grandfather's brother Dirk Horstmanshof were also part of the reunion.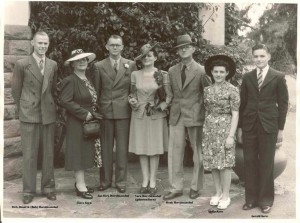 Photo  taken at the wedding  of my parent's Jan Dirk Horstmanshof and Vera Kern in 1943
None of these male Horstmanshof's have any children and so it looks like they, my son Dale (who lives in Melbourne Australia)  and I are the last of the South African Horstmanshof family".
Allen, his wife Louise and son Dale Justin are living in Byron Bay, Australia. They have an adopted son Bruce, who also bears the Horstmanshof name living on long Island in New York state in the USA. Bruce is married with Barbara Coates.
Allen is a sculptor and his art can be seen on his website and also on Facebook.
Allen and I share the same ancestor: Harmanus
(Rob Horstmanshof, sept, 2015)