I received an email from my cousin Matthias with a response from cousin Allen Horstmanshof. Allen is living in Byron Bay area in Eastern Australia.
Allen is a sculpture artist and makes beautiful sculptures.
You will find his life and work on:  http://www.allenhorstmanshof.com/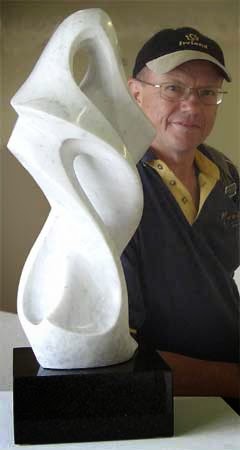 It seems that his line of the Horstmanshof family, descended from Hendrik (Henk) and his younger brother Dirk Hendrik who emigrated to South Africa in the 1920's.
They may be descended from Petrus Horstmanshof,  the son of Harmen Horstmanshof, who was born in Werther and moved to Amsterdam. We will find out later.
The only relatives in Australia I know of, are my cousin Bill and his brothers, who emigrated with their parents to Tasmania in the 50's. Bill and I are still in frequent contact with each other.
Nice to hear from you Allen! You had already contacted Matthias.
We'd love to hear more from you and like to see your pictures!
Email me if my English text is not correct.
Best regards,
Rob Horstmanshof

Allen's stone carving tools